As far as exhibitions go, this is a gem. Not only fascinating with regard to the evolution of photography but also a real privilege to see archival prints that are truly beautiful.
Points of View: Capturing the 19th Century in Photographs @ The British Library, London until Sunday 7th March.
You can also check out their on-line exhibition here which is an edited version, organised under the following themes: Art Beginnings Life New Century Portraits Progress Science Travel.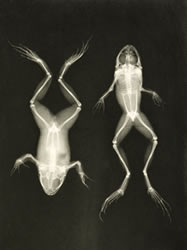 Photographers: Josef Maria Eder (1855 - 1944) and Eduard Valenta (1857 - 1937)
'X-ray photographs of frogs, c.1896'