Taryn Simon recently spoke at a TED conference about two of her major projects "An American Index Of The Hidden And Unfamiliar" and "Innocents". Earlier this year, in our Contemporary Photographic Practice Module at University, we were asked to write a critically informed and illustrated appraisal on a published photographic book. I chose "An American Index of the Hidden and Unfamiliar" - what was particularly interesting to me in exploring Simon's publication is the curious nature of her work - a hybrid of art and documentary photography where both image and text are fundamental and the balance between the two is always tightly maintained. The image does not reveal its meaning until the text is read.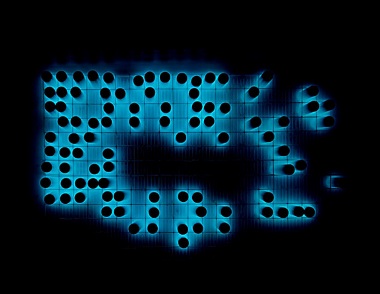 © images & accompanying text, Taryn Simon
"Submerged in a pool of water at Hanford Site are 1,936 stainless-steel nuclear-waste capsules containing cesium and strontium. Combined, they contain over 120 million curies of radioactivity. It is estimated to be the most curies under one roof in the United States. The blue glow is created by the Cherenkov Effect which describes the electromagnetic radiation emitted when a charged particle, giving off energy, moves faster than light through a transparent medium. The temperatures of the capsules are as high as 330 degrees Fahrenheit. The pool of water serves as a shield against radiation; a human standing one foot from an unshielded capsule would receive a lethal dose of radiation in less than 10 seconds. Hanford is among the most contaminated sites in the United States."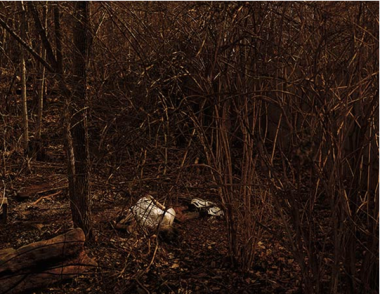 Forensic Anthropology Research Facility, Decomposing Corpse, University of Tennessee, Knoxville, Tennesse
"The decomposing corpse of a young boy is studied by researchers who have re-created a crime scene. The Forensic Anthropology Research Facility, popularly known as The Body Farm, is the world's chief research centre for the study of corpse decomposition. Its six-acre plot hosts approximately 75 cadavers in various stages of decomposition. The Farm uses physical anthropology (skeletal analysis of human remains) to help solve criminal cases, especially murder cases. Forensic anthropologists work to establish profiles for deceased persons.. These profiles can include sex, age, ethnic ancestry, stature, time elapsed since death, and sometimes, the nature of trauma on the bones. Corpses were first brought to the facility in 1980 as donations from the state (unclaimed bodies) or from families donating on behalf of the deceased".